Going up the highest mountain in Africa was never something I thought I would be doing. But Kilimanjaro called me, continuously, and it might be because I had some lessons to learn.
My journey to the "Roof of Africa" was filled to the brim with breathtaking beauty and the unexpected, but if I look back on it today I think the life lessons I learned in the process was possibly the biggest surprise.
There were many, and putting them down all at once will be hard to do, so I will share what comes to mind first, as a means for you to experience it with me if you want, but perhaps even more so for me – so that I do not forget. It is an honest attempt to engrave the memories of my beloved mountain in my mind to continue to carry the adventure of it with me on my journey in life. I will share more as time allows, so please check back often if you are interested.
In a previous posts I talked about how it all started, and shared thoughts on what led up to me getting on a plane to Tanzania, ready to get to the top of the highest freestanding mountain in the world, and the tallest in Africa. These were my thoughts as the day finally arrived. When looking back, without realising it at the time, Kili taught me courageous, larger than life, important life lessons right from the beginning. Here is what comes to mind first.
What the heck did I just do?
I must admit that this thought started a couple of weeks before departure. The scary, "are you a madwoman" thought. Remember I was not an athlete, I only had 4 months to prepare for getting up a 5 895m mountain – and despite never have done a marathon before, I had my first half-marathon booked for a day after I got down. It was self-inflicted and ludicrous! Yet, here I was and that was exactly on the agenda.
I got on the plane (kitted out in the most important items for summit night, including my climbing boots off course) and following an interesting midnight flight and meeting a cheerful, fiercely-fit fellow travelling group (more about them later), I arrived at the hotel in Moshi.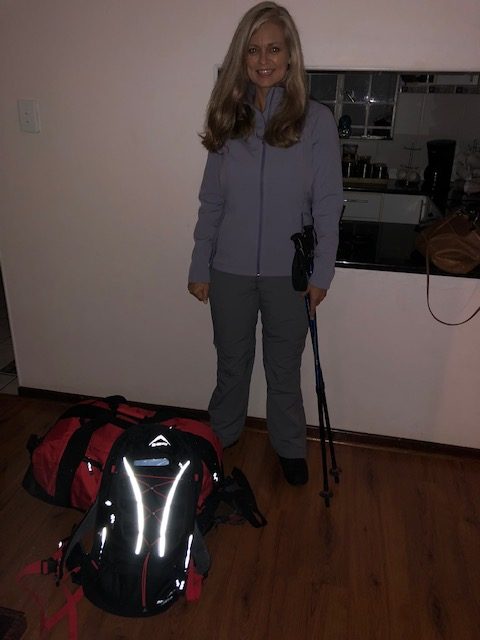 I was excited, wide-eyed and taking pictures from the mountain from the minute my feet touched the ground from the airport. I was in awe. But it was while having lunch that I decided to watch another Kili video posted on the Machame route – the same route I would depart on in a day's time, that it all started to sink in.
I was petrified! Off course, it was not the first time I watched a video of the route. But it was the first time that it really scared me. It felt like I have never seen it before. That it was the most disturbing thing I ever could watch on YouTube. It looked like pure torture! I could never do that, what was I thinking? Could I hide away in my room for a week or should I get back to the airport and head back home? I felt totally and utterly unprepared, low on confidence and fearful of everything that could go wrong. The feeling took me by surprise.
Looking back, I think this is the first thing that happens when you are chasing after a dream. Especially a wild one. You probably would have resisted advice to the contrary up to now, fuelled by your own passion and raw grit. You would have been told of the reasons why you shouldn't … but it is not until you are at the cusp of taking the leap that it will echo. And it will echo loud and clear.
Lesson: We are all presented with choices. Live your dream or flee from it. The first option is always the hardest to do. And when you make the decision, it is almost as if the Universe test your resolve. Know that if you do not push through, it might be one of the things that you regret forever. Get to the other side of fear, hold on, trust your gut and trust that things will work out. You will be grateful that you did.
Expectation versus reality
I knew I was climbing a mountain, but I had an expectation of how it was supposed to be. I did a lot of reading, preparing, speaking to people, and attending Kili-preparation evenings hosted by travel companies. I even had a day-by-day itinerary provided to the finest detail by the travel agent. I thought I had it covered. One of the biggest shocks then had to be that it was nothing like I expected. The route starts through the rainforest, at the foot of the mountain. Beautiful, lush and cool and I expected it to be somewhat timid, a gentle upward slope that gets you into the swing of things, easing you into what lies ahead with a gentle welcoming footpath scattered with peculiar African flora. It was not. I was wrong! I remember taking those first steps and thinking yep, we are climbing a mountain all right! It was off course not grueling on day one but it left me thinking that if this was only day one, what is possibly lying ahead?
I quickly learned that the itinerary was far from the truth, every single day. That it took concentration, watching every single step and dealing with the landscape as it came. For our group, every day took longer to complete. You would be walking in sunshine one moment, and it would come pouring down the next. Being the only non-athlete in a group of four women, I was moving slower towards the back and I made up my mind to let it be. The others were phenomenal, experienced athletes, two international and one local woman. They knew how to nourish their bodies, what to snack and how to move. I had none of that experience but I knew that my mind was strong, and that I was not going to focus on the journeys of the others. That it was theirs to hold. I was on my own, unique journey and that was all that deserved the majority of my thoughts and feelings at the time. It helped looking at it from that perspective!
Lesson: When dealing with the unknown it is easy to look around you and to compare, to feel pressure or to doubt your own ability. It does not serve any true purpose but to distract you from the task at hand, stealing your energy and resolve towards something that does not serve you. Your best is good enough, you are different from anyone else, and therefore it should be no surprise that your journey in life is different as well.
Trust your path, stick to the plan but most of all, respect your individuality and your journey.
Preparation can make or break the outcome – but it is about keeping your chin up in the end
I did my homework, I read whatever I could get my hands on, I saw my doctor for a medical check-up, (not to mention the injury I picked up shortly before departure) – I packed the suggested items on the medical emergencies list and I got the technical gear. To a great extent I knew what I was in for. Yet, as I explained above, reality is so much different from the picture in your head. I think I probably spend a lot more time talking to people. Getting checklists and advice on gear. Listening attentively to every word of insight and advice than most.
People shared ideas on medicine, what to take and what to leave, how to use the little water you get every evening to wash, how to organise your space. Special gems of advice worth its weight in gold, like packing a cappuccino powder for coffee first thing in the morning, and that apart from sunscreen, lipstick and good smelling perfume (not mascara) is a necessity for both the body and soul, that chocolate is therapeutic amidst tears of exhaustion and disappointment and that you will think you are going to die but that, really, you won't. I heeded most of the advice, and learnt that some would be more applicable to me than others. In the end I know that these little nuggets of wisdom probably got me through more than my physical strength or the power in my legs.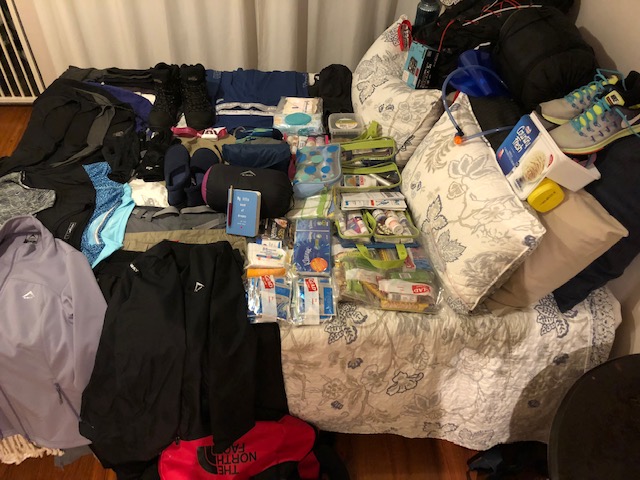 Lesson: Preparing best you can is always a good idea. Do the research, attempt the forecast, speak to people, find the Giants that went before you. Know that reality will look a lot different, but it will help you deal with the unexpected better. If you require specific tools to get the job done, do what you can to obtain and use them. You might have success without it but it will be much harder, your chances will be slimmer and the toll to your body (and health) will be much higher.
In the end, the mind is much stronger than we can ever imagine. If the mind can conceive it, and believe that it can (or must) be done, the body will achieve it. Believe me it is phenomenal how true this is. Take care of your body and your mind. You need both!
I think the most unexpected lesson for me was that Kili really showed me what my body is capable of, even though I was not aware of it myself. My mind said go! My legs said no!
In the end, I just kept putting one foot in front of the other, slowly, slowly (pole, pole as they say on the mountain). On the last day I picked up six blisters that required medical attention months afterwards, but it was my willpower and my mind in the end that prevailed I believe, and what I asked of my body, it in return delivered! I had a newfound respect for my body and realised that it deserved a lot better (nutrition and appreciation as opposed to body image issues) than what it received from me on a daily basis.
Lesson: It is about perseverance more than strength, about belief more that physical circumstance. It is about what is on the inside more than what is on the outside. In the end, the battle is with yourself and the journey is about respect. Respect for the mountain and nature, for others, but most of all for yourself! One thing is for sure, Kili teaches you about magic, beauty and what is truly important, it shows you the resilience of the human spirit in all its glory and it teaches you, well, about yourself!
In follow up pieces I will share more on this topic and what Kili showed and taught me. What are some life lessons that you learned in unexpected ways?